Well with still no official release date rumour has it that Lord of the Rings (LOTR) War in the North (WITN) will be released around Fall pushed back from the rumoured Summer release we were all hoping for. All that said there is a silver lining with a Special Collectors Edition, which would be a great addition to any Tolkienites Collection.
Priced at around $120 (£75) it really does look great value for money, in addition to your copy of WITN you will recieve a Ranger of the North Quiver Case, WITN Art Work of all the games Characters and Enviroments, some Music from the game consisting of 3 Tracks and Interviews with Inon Zur at the Abbey Road Studios, there is also Digital content with a Ranger in the North Avatar for X-Box users and a Theme Pack for PS3 users.
With High expectations various outlets are offering free goodies when you Pre-Order from them, here is a list of what they are offering, so you can pick the one that suits you.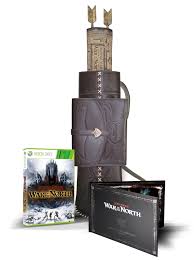 Wal-Mart: A Dwarven adventure awaits you when you Pre-Order at Wal-Mart, the Dwarf Theme Pack has an exclusive Dwarven Sword, Armor and Helm.
Target: Discover the beautiful sounds of Middle-earth with three exclusive tracks from the WITN soundtrack.
Amazon: Only available on Amazon, pre-order WITN and get early access to the second part of WITN Digital Comic written by Brian Wood, illustrated by Simon Coleby and produced by Super Hero Giants DC Entertainment. The Comic Book consists of the back story leading up to LOTR WITN. Gamers will also be bestowed with the Orc Champion sword (in-game use).
GameStop: Marvel at the Citadel of the Stars and the Tower of Stone with the Human Theme Pack consisting of an exclusive human sword, Armor and Battle gear of the Human Ranger, you also get access to the Osgiliath Challenge Map.
Best Buy: Take off on an Elven adventure with the Elven Theme Pack, consisting of a mystical Elven sword, armor and helm, you also get access to the Lothlorien Challenge Map.
Toys 'R' Us: Receive a rare imited edition, signed WITN poster by Jim Lee, and special access to download parts one and two of the WITN Digital Comic.
Don't you just wish Autumn would get here sooner.