We've been fans of the LOTR Project for a while (some of us even have his Periodic Table of Middle-earth hanging on our walls). The latest project to come from our favorite Tolkien-research-inducing website is Six Degrees of Sauron, a project/game/experiment designed to show the connections between characters in Tolkien's works. It is named after the Six Degrees of Separation theory which claims that everyone is six or fewer steps away from any other person in the world.
How To Use Six Degrees Of Sauron
Six Degrees of Sauron was designed to be very easy to use. Simply enter the names of Tolkien characters in the "FROM" and "TO" fields, and click "SUBMIT". Some of Tolkien's character names are hard to spell. So, you only have to type a few letters, and then a drop-down menu of matching names appears. You MUST select from the drop-down menus. Note that in some cases, alternative names display, e.g., typing "Gollum" will display "Sméagol", and typing "Strider" will display "Aragorn." The results show the corresponding chain(s) of characters and how they know each other.
Here's an example:
About Six Degrees of Sauron
Many people are familiar with the theory Six Degrees of Separation or the related game Six Degrees of Kevin Bacon. The theory is that each person is separated from any other person in the world by no more than 6 hops.
Sauron is the main villain in J.R.R. Tolkien's The Lord of the Rings. He also appears in The Hobbit and The Silmarillion. Since the guys at LOTR Project are fanatics, and since The Professor's writings feature an enormous cast of characters, they thought it would be fun to apply Six Degrees to Middle Earth. Six Degrees of Sauron's database includes characters from The Lord of the Rings, The Hobbit, and The Silmarillion. The Dark Lord is closer than you think!
About the Creators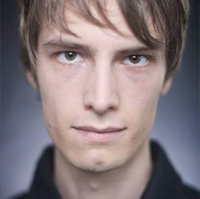 Emil Johansson lives in Gothenburg, Sweden, and is a Chemical Engineering student. He is passionate about photography, the web, chemistry, and of course, the works of J.R.R. Tolkien. He maintains this website, LotrProject.com, through which he shares creative projects related to Tolkien's works. Emil is @LOTRproject on Twitter.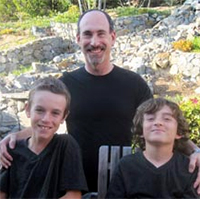 Henry Herz lives in San Diego, and writes fantasy and science fiction books for kids. He is aided in this noble endeavor by his two young sons. He also interviews fantasy, science fiction, and children's book authors and illustrators on his blog henryherz.com. Henry is @Nimpentoad on Twitter.
It's a fun way to learn more about Middle-earth and to make connections you may never have thought of! Try it out for yourself and let us know what interesting relationships you discover!